Duck Cup- June 3-4, 2023
NOTICE OF RACE
2023 Duck Cup- Cancelled this year.
Sorry folks, We are having to cancel this years e vent due to conflict in scheduling. We will transfer all our efforts to the OBX Multihull Sailfest, September 9-10, 2023. Should be a great event. We are expected 24-28 boats this year in three classes. Please call Hardy with any questions at 252-489-3491.
Organizing Authority – East Coast Sailboats
Saturday, June 3rd and Sunday, June 4th 2023
Location- Nor'Banks Sailing and Watersports, Duck NC
Registration Link- REGISTER HERE
1.RULES
The event is governed by the rules as defined in The Racing Rules of Sailing.
2. SAILING INSTRUCTIONS
The Sailing Instructions will be available on June 5 at check-in.
3. ELIGIBILITY AND ENTRY
3.1 Multihulls, Catamarans and Trimarans 23 feet and less.
3.2 Registration is limited to 30 boats.
3.3 HOW will folks register? See link or Contact Us
4. FEES
The entry fee for single-handed boats is $55 and double-handed boats $65.
5. SCHEDULE

6. VENUE- TBD
NOR Attachment 1 shows the location of the host venue. Need to attach.
7. COURSES
7.1 Both races with both races starting and ending at Nor'Banks. Competitors are welcome to enter either the Long or short course each day. All races are weather dependent and may be changed to fit conditions.
7.2 Long course – 20+ miles wind dependent north or South to a mark and return to Nor'Banks. Le Man's start, finish line completion.
7.3 Short course – Nor'Banks to bridge, to mark and back to Nor'Banks . Le Man's start, finish line completion.
7.4 Each day's race will begin using a Le Mans Style Start at 11am. Starting order will be determined by random drawing on Saturday and on Sunday by your finish on Saturday.
8. PENALTY SYSTEM
RRS Appendix V1 shall apply.
9. SCORING
9.1 Portsmouth Handicap will apply.
9.2 No scores shall be excluded.
9.3 One race on each course shall constitute a regatta.
Video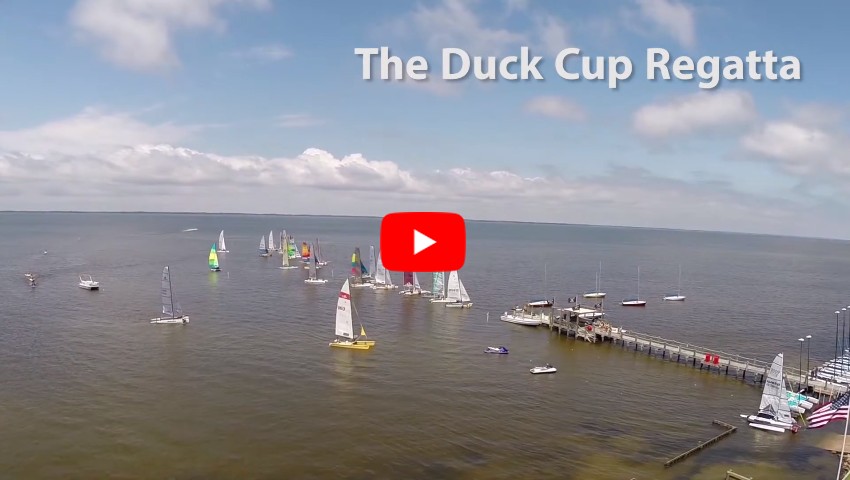 10. SAFETY
10.1 Covid rules take priority and are based on state guidelines.
10.2 A waiver must be signed.
10.3 A USCG or equivalent PFD must be always worn on the water.
10.4 A VHF radio monitoring channel 7 or a mobile phone must be on board.
10.5 GPS units are permitted.
10.6 A safety boat will monitor the courses.
11. RISK STATEMENT
RRS 3 states: 'The responsibility for a boat's decision to participate in a race or to continue to race is hers alone.' By participating in this event each competitor agrees and acknowledges that sailing is a potentially dangerous activity with inherent risks. These risks include strong winds and rough seas, sudden changes in weather, failure of equipment, boat handling errors, poor seamanship by other boats, loss of balance on an unstable platform and fatigue resulting in increased risk of injury. Inherent in the sport of sailing is the risk of permanent, catastrophic injury or death by drowning, trauma, hypothermia, or other causes. Competitors voluntarily assume the risks associated with communicable diseases including but not limited to COVID-19.
12. Prizes
Prizes will be given – TBD
Registrations 2023
Skipper/Crew Boat/Sail#
ADDITIONAL INFORMATION
Boat setup and staging area TBD
Host: Nor'Banks Sailing and Watersports
Organizer: Hardy Peters, East Coast Sailboats, 252-489-3491 or info@eastcoastsailboats.com
Registration Link- REGISTER HERE
Housing- Air B&B, Hotel, camp ground, home rental, friends couch. Limited camping/RV at our warehouse facility
Sunset cash bar opens at 5 PM, Village Table and Tavern, Downstairs, West side.